June was the month of launching the Aurealis Awards, of which I am running almost alone this year. It was also taken up with the Australian election during the last week, as I worked as a rural pre-vote officer after hours in addition to my day job. I tried to do a read-a-long somewhere in all that and I think I finished off five books in that week in the end, but I'm not sure. I don't even know what day it is.
Onto the novels read in June!
My Lady Jane by Cynthia Hand, Brodi Ashton and Jodi Meadows was wow. I didn't want to put it down, and devoured it and I want more. Featuring a reluctant king, an even more reluctant queen, magic that condemns those granted with it yet also sets them free, and overall this was written with a light and teasing hand where the authors would dip in every so often and break the fourth wall in a way that always worked. Another one that's highly recommended and just fun.
Nimona by Noelle Stevenson was something I read when it was first released week by week (or whatever the post schedule was) online – I think on tumblr? And I loved it. The opening as a shark is just excellent. I either drifted off from reading it or maybe Noelle didn't post all of it online if the book deal then came, but either way I didn't see the ending… and now I'm so glad I have it in print form as it's so damn worth it. Highly recommended! All about a shapeshifter who wants to be a sidekick to a super-villain. And it's lovely.
One Would Think the Deep by Claire Zorn was one of my highest anticipated for the year because I adored her previous two novels so very deeply. And then this was just a little bit… I'm not sure. Different, I suppose. Excellent capture of characters as we've previously seen, but the plot just didn't grab me. The previous books have been pretty bleak but I still wanted to keep reading – this one was just a bit… awkward. It could have been my mood, and hopefully I'll try it again in the future.
Kid Dark against the Machine by Tansy Rayner Roberts was such a joy to read. It's no secret that Tansy is one of my favourite authors of all time. That said, some of her pieces of work spring beyond expectations, and this world is one of them. What Tansy rocks at is presenting you with characters you love in so few words and I especially loved the ending for this one. I really hope we get many more novellas in this series and then perhaps a collection of them all (when current publishing rights have ended of course), because there's so much more to explore in this world.
You can read my review here.
Leave Me by Gayle Forman was a book I devoured in mere hours. Not a whole lot happens, but the characters are relatable, it's not one-sided, and I'm glad to have read it. This is a solid read that's believable, and the ending was satisfying in a way I wasn't sure would be possible until Forman made it work.
You can read my review here.
The Thief who Pulled on Trouble's Braids by Michael McClung was really excellent, and reminded me of Scott Lynch in a much simplified way – if there was just the one thief, with fewer troubles (and even then this poor thief has a world of problems, just shows how much shit Locke gets himself in…) What works in this one is how you barely get to meet a character yet when you know something bad is about to happen to him you're thinking no no no don't!
To care about a character that quickly is rare.
What also works about this is the range of characters from all works of life, who come together to work and possibly be… well, not friends, but they interact with each other without malice and it's also believable despite you believing in the world they're from which also shows how rare that is. This is a self-published book that won the 'self published fantasy blog-off hosted by Mark Lawrence', and it didn't disappoint!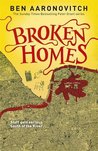 Broken Homes by Ben Aaronovitch was a reassuring read. Whenever I don't know what I feel like reading, I open his next book and get lost in a few chapters. And then it feels like I'm taking ages to read it so I feel like it's slow, but then it's also because so much happens that I enjoy each chapter so much that it reads so well, and then something ALWAYS happens right at the very end (the very definition of a cliff-hanger, but almost a sneaky one, because it's not always TA-DAH DRAMATIC but makes you go 'what the hell, NO!' and you have to pick up the next book immediately to find out what the hell is going to happen. That makes a good book, right?
Through Splintered Walls by Kaaron Warren was read for the current Twelve Planets read/review a book a month challenge we have on. I read it in its release for the Aurealis Awards, but with my memory being as bad as it is, I'm always glad for an excuse to re-read! This is the sixth book in the Twelve Planets series, which showcase the talent of female Australian authors.
These short stories (three and a novella) feel Australian without ramming it down your throat (which isn't a bad thing anyway), and they're quite horrific without being gory. Intellectual horror, maybe? Insightful? Whatever it is, it's good.
You can read my review here.
The Edge of Worlds by Martha Wells was another that felt slow to read but I did enjoy it throughout. I love the dynamic between Jade and Moon so much, and I love Stone and a few others – though it's hard to keep them straight some times. This was a good adventure of a book, but I wish it had more flow to the adventure so it didn't feel as slow. Or maybe that's just my mood again?
Rise by Mira Grant was a good collection of her short fiction that ties into the Feed world, with most being reprints other than the last two pieces at the end, one that show their parents just a few years after the Rising, and one that show George and Shaun themselves after the trilogy has ended. It's a good collection, I loved reading it, and I wish to god the book had a better cover.
~
June was crazy excellent. Enough said.