This month I managed to read 20 novels – wowsa! This is what happens when I have eight days off work that include plane travel! Below I'll list the novels read for my part in judging the fantasy novel category in the Aurealis Awards which I'm not able to discuss, then below shall carry on as normal for books I've read for enjoyment or review.
Novels read for Aurealis Judging (thank goodness for travelling! It really helped me get through a stack!)
Daughters of the Storm by Kim Wilkins
Raven Stone by A. K. Gallagher
The Scales of Time by Josephine Crnkovic
Uncle Adolf by Craig Cormick
Chosen by Shayla Morgansen
Shadow Sister by Carole Wilkinson
Nymph by Tonya Alexandra
Missing, Presumed Undead by Jeremy Davis
Troll Mountain by Matthew Reilly
Covens Rising by Adina West
And now, onto the novels read in November!
Skinny Bitch by Rory Freedman and Kim Barnouin is a book that's a bit outdated, and written in a very blunt manner, all about how you should lose weight. And become vegan. And a whole lot of other things. Parts of it are quite good, parts are outdated, and parts are just so misguided that it's a little worrying. It's a good read if you're prepared to put in your own effort of research and make your own decisions about the meat industry and the fear campaign out there about everything from milk products and sugars to preservatives.
My own opinion? Know what your body hates and needs in order to be healthy. Be mindful of what's being said in the public about meat and free-range and all that and who's saying it, for what reason and agenda. Money speaks volumes in these industries. If you want to really get into it, talk to people in the know such as actual farmers and those in-between them and markets and stores. The stories my uncle could tell you would curl your toes.
(And no, I'm not going to become vegan anytime soon.)
Lute's Tale (Lost Shimmaron, #5) by Maxine McArthur is another book read for editing/publishing purposes. Not much else I can say about it currently!
I Was Here by Gayle Forman was one of those books you can't put down and it leaves you exhausted from feeling so damn much while reading. My review of it can be found here. We see the rougher walks of life, where there's dumpster diving just to eat, and the types of jobs one must take even if they come with sexual harassment – and there's little support out there to make it go away, or for there to be consequences. This is a novel that will stay on my mind for months to come.
The Galactic Suburbia Scrapbook is from the podcast Galactic Suburbia (imagine that!) This scrapbook features some of the highlights of 4 years and 100 episodes of Alex, Alisa and Tansy along with some notes from loyal listeners, and how GS has made an impact on them. This is excellent for reminiscing!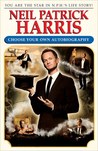 Choose Your Own Autobiography by Neil Patrick Harris is, as you may have guessed, an autobiography. What makes it awesome (other than it's about the excellent NPH) is that it's written in the style of a Choose Your Own Adventure novel – which sadly doesn't work too well on eReaders. As such, I bought a print copy while I was away and promptly devoured it, first reading it through as you're supposed to, flicking back and forth as directed or as you choose, but then I also read it from front to back in case I'd missed a story. And it's a good thing I did, for reasons I won't say! He's had such an interesting life, and I highly recommend it.
What a Croc! by NT News is a coffee-table book collection of front pages from the NT News, a newspaper in Australia known for its puns and it's relaxed, humourous nature. You can read my review here. 
Mitosis by Brandon Sanderson is a very short book, more of a short story rather than a novella, set in the Reckoners series (that starts with Steelheart and shall continue with Firefight, which are listed as YA but I'd almost slant them as a higher 'Middle Grade' series, as they're pretty tame. They're pretty good fun and a light, easy read – especially this as a short story. You can read my review of it here.
Sneak preview of 'A Darker Shade of Magic' by V. E. Schwab was the first 130 pages of the book due to come out February 2015 and oh my goodness this is THE novel I'm looking forward to next year! You can read my short review of it here. This is just so well written, so much fun, just going to be SO dang awesome. I can't wait for February!
The Elementary Sherlock Holmes is a book that collects information about Sherlock Holmes – the short stories of canon, the characters, misc information such as the aliases Sherlock goes by, disguises he used and so on. It's quite cute but has a bit of personal speculation that's not really based on any fact in a few parts, which is a bit disappointing – it'd be better if it were from a neutral point of view so you could rely on it if needed. Regardless, it's quite good. You can read my review of it here.
Ayoade on Ayoade by Richard Ayoade is an autobiography by, well. Guess. This is written in the style of interviewing himself – with one of him in bold and the other not, literally just a back and forth over the page. While not my favourite autobiography this month, it's still pretty fun – though he's just far too intelligent for me, so I think a bit of it went completely over my head. You can read my review of it here.
~
November's monthly challenge is dystopian – any suggestions for what I should read?