This month I've managed to read 12 novels, but it seems limiting to say only that. I usually only count novels I've read in these things, but as this month was so full of Hugo reading, I thought I'd include it also.
So for the Hugo Awards, so far I've managed to read:
Novella
"The Butcher of Khardov" by Dan Wells (Privateer Press)
"The Chaplain's Legacy" by Brad Torgersen (Analog, Jul-Aug 2013)
"Equoid" by Charles Stross (Tor.com, 09-2013)
"Six-Gun Snow White" by Catherynne M. Valente (Subterranean Press)
"Wakulla Springs" by Andy Duncan and Ellen Klages (Tor.com, 10-2013)
Novelette
"The Exchange Officers" by Brad Torgersen (Analog, Jan-Feb 2013)
"The Lady Astronaut of Mars" by Mary Robinette Kowal (maryrobinettekowal.com / Tor.com, 09-2013)
"Opera Vita Aeterna" by Vox Day (The Last Witchking, Marcher Lord Hinterlands)
"The Truth of Fact, the Truth of Feeling" by Ted Chiang (Subterranean, Fall 2013)
"The Waiting Stars" by Aliette de Bodard (The Other Half of the Sky, Candlemark & Gleam)
Short Story
"If You Were a Dinosaur, My Love" by Rachel Swirsky (Apex Magazine, Mar-2013)
"The Ink Readers of Doi Saket" by Thomas Olde Heuvelt (Tor.com, 04-2013)
"Selkie Stories Are for Losers" by Sofia Samatar (Strange Horizons, Jan-2013)
"The Water That Falls on You from Nowhere" by John Chu (Tor.com, 02-2013)
Note: category has 4 nominees due to a 5% requirement under Section 3.8.5 of the WSFS constitution.
Graphic Story
Girl Genius, Volume 13: Agatha Heterodyne & The Sleeping City written by Phil and Kaja Foglio; art by Phil Foglio; colors by Cheyenne Wright (Airship Entertainment)
The Girl Who Loved Doctor Who written by Paul Cornell, illustrated by Jimmy Broxton (Doctor Who Special 2013, IDW)
The Meathouse Man adapted from the story by George R.R. Martin and illustrated by Raya Golden (Jet City Comics)
Saga, Volume 2 written by Brian K. Vaughan, illustrated by Fiona Staples (Image Comics)
Time by Randall Munroe (XKCD) – more of an online, interactive experience, more than anything.
Campbell Reading
Fade to Gold – Benjanun Sriduangkaew
Silent Bridge, Pale Cascade – Benjanun Sriduangkaew
The Bees her Heart, the Hive her Belly – Benjanun Sriduangkaew
In non-Hugo reading, but still reading graphic novels (so not novel reading, which is further below), I've read:
And now, onto the novels read in June!
Night by Elie Wiesel is a horrifying book I've somehow missed until recently. This month's genre challenge was non-fiction, so this was my pick. Like most I've read Anne Frank's Diary, though I'm unsure whether at the time it was only possible to get the edited version her father changed… but even Anne Frank's diary pales in what it describes compared to this. Though short at a little over 100 pages, it's a powerful window into what life was like in concentration camps at Auschwitz and Buchenwald during 1944–1945.
Admission (Pandora Jones #1) by Barry Jonsberg is one of Jonsberg's first speculative fiction works – generally he is known for perfectly capturing realistic teen fiction set in schools. This was an engaging dystopian that has a few questions in the world building that I think adds more to the mystery of it all, and shall hopefully be answered as more books come out.
Reboot by Amy Tintera is a book I picked up cheap while on holiday. At times it's hard to put down, then it swings into being far too easy to do so. You have a rough main character who seems too easily to giggle and blush, when I would have preferred to see her react wildly/violently to try cover it up, or pretend she's not feeling anything remotely romantic. I would find that reaction more believable than what we were presented with. Still, the world is engaging, and I continued to read on just to see more of it.
The Very Best of Fantasy & Science Fiction: Volume Two, edited by Gordon van Gelder is a collection of the very best pieces from the magazine of Fantasy and Science Fiction, going back past the last 60 years or so to the present. As such, all are reprints, but I'd only read one in the whole thing beforehand, and found the majority to be excellent.
They Came on Viking Ships by Jackie French is another book I think I read much younger, but have re-read again now on my Jackie French kick. The main character of Hekja loses everything she knows when her village is raided by Vikings. Captured, she becomes a slave to Freydis, daughter of a the Viking leader, but often cast aside simply because she's a woman. Freydis is determined to make a name for herself, and Hekja finds herself able to help, while also building a life for herself out of the despair.
Lirael by Garth Nix is the second in his Abhorsen/Old Kingdom series, as part of my co-read with book-buddy-Bethwyn. Quite a different path from the first book, but very enjoyable either way, and an interesting look at how the world has progressed over the last 20 or so years.
Thief's Magic by Trudi Canavan is the first in her latest series, and alternates between telling the story between Tyen, a sorcerer in training, and Rielle, female and therefore has little rights in the land where she lives. This series is going to pack a punch, and what a cliffhanger to leave us on! I can't wait for the second in the series.
Oracle by Jackie French is one of her newer books (published in 2010) set in ancient Greece, showing what life was like then when you had to tithe to the king, when woman were little more than worthless, and it was so easy to become a slave or little better than one to royalty. What I find with Jackie French's later books is she's not afraid to suddenly turn the plot on its head. You think you've settled in to the story, only for the carpet to be pulled out from under you and you're suddenly in a whole new place.
Abhorsen by Garth Nix is the third and last in the series, though there is a book of short stories, and now a fourth book which is apparently a prequel. This was certainly better than the second book, though certain things in the end sent me bawling in tears.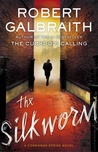 The Silkworm by Robert Galbraith is the second in the Cormoran Strike series (written by J. K. Rowling) and was just as, if not more, enjoyable than the first. What I love most about Galbraith/Rowling's writing is that it's warm. It's comforting. You see London through Strike's eyes, for how lovely it is in parts but also how cold and relentless. She does an amazing job at capturing different characters so easily, as well as describing what life is like for Strike with his prosthesis. Now, where is the third book and can I have it now, please?
Afterworlds by Scott Westerfeld is an amazing book for those who hope to be a published author someday. The novel is split between two stories – that of a girl who has moved to New York for the publishing of her first book and so she can write the second, and that of the novel she's writing itself. I loved seeing New York from the eyes of someone who's never been there before, and also seeing a glimpse of what the publishing world is like. I also couldn't help wondering whether other authors in the novel were light caricatures of famous YA writers such as Brandon Sanderson and Laini Taylor… probably not, but it got me wondering!
Falling into Place by Amy Zhang was the perfect pick to read at the end of the month. With one day left to go, and a need to read more before the month was up, I was able to read in it about two hours and it packed an emotional punch that made the book feel like such an event. It was a good book to end up with.
~
Books I'll be reading next include Nexus by Ramez Naam and – actually, I'll be writing a blog post on this. I just have so much to get through!
July, my genre challenge is steampunk/cyberpunk! I'm thinking of reading The Time Machine and Do Androids Dream of Electric Sheep.